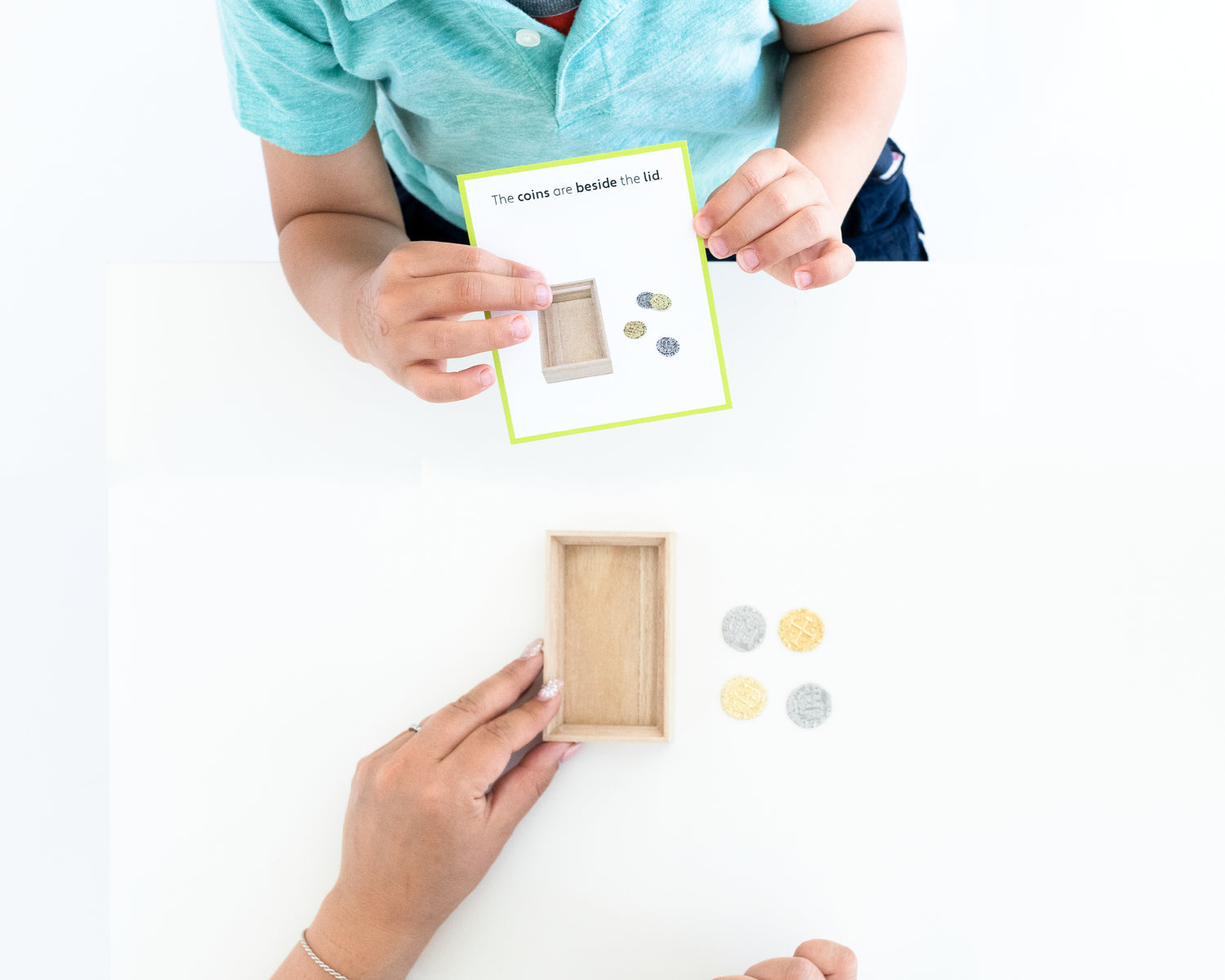 Engaging & Easy to Use
A fun, hands-on activity that helps children:
+ Increase vocabulary skills
+ Understand and give instructions
+ Comprehend sentences, sequences and stories
+ Speak in grammatically correct sentences
+ Strengthen auditory memory skills
+ Practice social communication skills
+ Use language to imagine and problem solve
+ Practice later developing speech sounds
Explore the Kits
Anyone can use them.
Speech-Language Pathologists

Educators & School Districts

Parents & Caregivers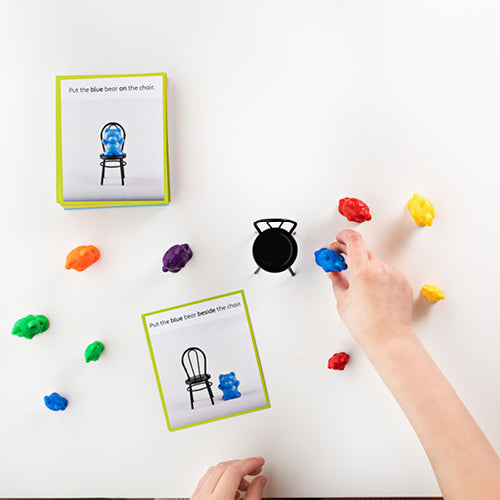 What's in a kit?
Adorable miniature objects that were carefully selected to capture children's attention and engage multiple senses in the learning process.
We put learning in the palms of their little hands!
60 picture cards that show the objects arranged in various ways with suggested sentences printed at the top. The sentences help you target important receptive and expressive language skills but can be adapted in any way.
Guided yet flexible!
Three levels of difficulty so you can start where the child is at and grow from there one small step at a time.
A bonus level shows how each kit can be used in another fun and fantastic way.
Touch it * Move it * Say it * Learn it
Watch & Learn
Work on RECEPTIVE LANGUAGE in 3 easy steps!
1. Hold a picture card so the child can't see it and read the sentence at the top. Feel free to describe the image another way if you want to target different words or sentence forms.

2. The child arrange the objects as best they understand. Help them ask for repetitions or clarifications, if needed, so they can practice repairing communication breakdowns.

3. Reveal the picture card to the child. If they arranged the objects exactly as you described, they understood everything you said. If not, identify what they still need to learn and set about teaching it.
Work on EXPRESSIVE LANGUAGE in 3 easy steps!
1. The child takes the speaker role. Ask them to pick up a picture card, hold it out of your sight and describe the image to you.

2. Arrange the objects exactly as they say even if you know they got some words wrong.

3. The child reveals the picture card. If your arrangement matches the image, they were able to accurately described the image using all the right words and grammar. If not, this is another great teaching moment.
Testimonials
Terri Calder, Educator

"My staff and I are loving the kits.  We are a Preschool and Kindergarten that also runs Early Intervention services.  They are great with our SLP and ELL children and extra practice for our typical students who at three and four are still learning grammar as well."

Tracy Gott, R.SLP

"I am a Speech Language Pathologist and purchased a Communakit for use with my preschool caseload. It was a fantastic buy. My assistant was able to take it out on visits and it was immediately evident to her the variety of speech and language goals she could target in a play based manner. Her words were, "It's magic"! It was a favourite resource and they repeatedly asked to play with it. The possibilities for goal based play were endless. Highly recommend!"



Donna Robitaille, SLPA

I am so excited and cannot say enough good about these Communakits! They are engaging and exciting for the kids and so easy to adapt and use. The cards that are included are bright and easy to look at and understand, even for the kids. The instructions are easy to follow I love how Connie and Robyn make videos showing these kits in action. I am a speech therapy assistant and my students request these kits all the time and are sad if we have to work on something else first. These now have become my "Go to" kits that I have with me all the time. They are so versatile and can be accommodated to just about any goal I have."

Megan Stock, R.SLP

"They are an excellent tool for virtual services as well. When the client and the therapist have the same set, barrier games can be done in person or virtually and are a super fun, effective, and meaningful way to work on our common language goals! The materials and toys are appealing to both adults and children. As a Speech-Language Pathologist and as a parent, I really love these products!"
Speech & Language

Help children improve their communication skills with engaging and easy to use learning kits.

Hands-on Learning

Children get to touch and move a host of irresistible objects as they practice listening and speaking. 

Expertly Designed

Each kit was carefully crafted by a Speech-Language Pathologist with 30 years of experience.
The Kits
Regular price

$275.00 CAD

Regular price

$297.00 CAD

Sale price

$275.00 CAD

Unit price

per